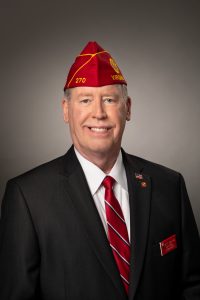 Dear American Legion Post:
A century ago, The American Legion was founded by veterans who had a post-war mission. Their mission, one that continues today, was to care for veterans, provide patriotic programs for our nation's youth, advocate for a strong national defense and instill a societal pride in what it means to be American.
It is our posts, however, that people see every day. Whether your post is 100 years or 100 days old, this birthday – our 100th – is about you. The fact is that no program, no fundraising initiative and no legislative achievement of The American Legion could ever succeed without the hardworking men and women who comprise our American Legion Family.
From the drafting of the original GI Bill to the creation of the VA, The American Legion has had an unparalleled record of success.
I know that I can count on all of you to continue your dedicated service to our country and our American Legion. And if, like me, you believe the Legion will continue to accomplish great things in its second century, let's all commit to recruiting and especially renewing past members so we can continue to be a strong American Legion for a strong America.
For now, happy birthday, Legionnaires!
WE ARE TEAM 100!
Sincerely,
Brett Reistad
National Commander
The American Legion
Office of the National Commander
National Headquarters | P.O. Box 1055, Indianapolis, IN 46206-1055 | 317.630.1253 | Fax 317.630.1368 | legion.org
Here is a copy of the letter from the National Commander: Happy Birthday Legion